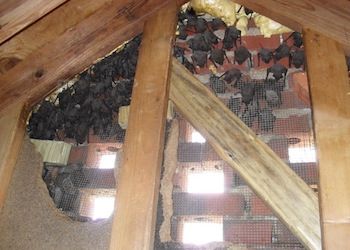 Bats
If bats have invaded your home or building in New Jersey and have formed formidable colonies in your attic, do not wait any longer and call for bat proofing services NJ right away. The common symptoms of bats having made home in your building are noises during the night, bat droppings or feces inside or outside your building and the frequent sight of bats around your building.
Bats – Disturbance and Disease Causing Nocturnal Beats
Bats are the most common nuisance causing nocturnal mammals that love the warmth of attics and crowded buildings. The little brown bats are extremely common and often use attics as their hibernation and breeding havens. These noisy creatures can form large colonies quickly and can turn your building into their abode.
Just like other wild beasts, bats too create an unbearable stench. Furthermore, they carry disease-causing germs and micro-organisms which greatly endanger the health of building residents. Bat feces or droppings can build up over a period of time and can further lead to severe health hazards. Diseases such as Rabies, Histoplasmosis and Cryptococcosis are the result of bats and their feces. This is precisely why bat proofing services NJ have become so important.
Professional Bat Control NJ Services for Efficient Bat Proofing and Bat Removal
Bat proofing NJ services are designed to take care of bat nuisance in New Jersey homes and buildings and help a property get rid of bats, their odor, germs and feces. The services are carried out by professional licensed bat exterminators with extensive knowledge and experience in bat proofing NJ. The services are designed to eliminate bat nuisance at all levels, right from locating bat presence, discovering openings in roofs, walls and chimneys, removing the feces and germs spread by bats, sealing the structural openings to sanitizing and deodorizing the entire space.
Why Hire Professional Exterminators?
If you think that you can tackle bat nuisance all on your own without professional help, think again. Can you climb the walls of your building safely and locate and seal all openings? Can you remove large bat colonies from your attic all on your own? Can you eliminate heaps of bat feces efficiently? Can you sanitize your building and make sure that no disease-causing germs are left behind? Bats proofing NJ services are designed to provide you reliable and long-lasting relief from bat nuisance without you having to go through any trouble or hassle. Professional exterminators are well-trained and experienced and perform bats proofing NJ jobs with utmost efficiency and perfection. All you need to do is sit back and relax while professionals will bat proof your home/building completely.