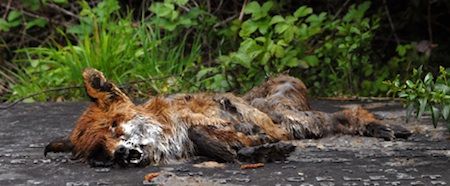 If you're looking for something fun to do this week, why don't you go look for a dead animal to pick up and dispose. I know what you're thinking. "That does not sound like fun at all!" Exactly. So when you are dealing with a dead animal on your property, you should be sure to let the professionals handle it. We don't enjoy it either, but it's our job. Foxes are one of several animals that seems to be showing up more and more in New Jersey and the more live ones that there are, the more dead ones there will be. Foxes can be dangerous and definitely should be avoided… dead or alive. Dead fox removal is becoming more of a problem in New Jersey and there is no need for you to deal with the problem.
When dealing with a dead animal carcass on or near your property, the problems are many. It is certain that no one enjoys the sight of a dead fox on their property. Maybe the only thing worse than the sight of an animal carcass is the putrid smell of that carcass. The smell will worsen for several days before it begins to get better. This smell can consume your home depending on the location of the dead fox in relation to your house. The fox carcass removal services from All Stages Pest Control in New Jersey will make sure that the smell is remedied before it becomes a deeper issue for you and your family.
In addition to the eye sore and the horrific smell, if you need to remove a dead fox, the job is filthy and potentially hazardous to move. This health issue becomes compounded in situations where small children or pets are in the vicinity. Rancid meat is not dangerous on all occasions, but it is better to be safe than sorry. Another problem that many people overlook is that the smell of the carcass can remain even after you pick up a dead fox. The problem is not over after you remove the dead fox from your New Jersey property. Removal is only half of the equation.
Now that the fox carcass is picked up, what do you do with it? Sure, you could throw it over the hill on that remote road away from your home, but in many jurisdictions, there are regulations that define the proper disposal techniques for dead animals. If you choose not to follow these guidelines you may be forced to pay a fine. Plus, if the dead fox removal from your property just means that it is relocated to someone else's property you haven't really solved the problem. Let us solve the problem for you.
First and foremost, we have the tools to remove the dead fox from New Jersey homes very quickly. A job that may be quite a hassle for you is very quick and easy for us. Because we specialize in dead fox removal in New Jersey, we are well-equipped to handle even the most troublesome jobs. Not only will the animal be removed swiftly, but the smell will also be permanently eliminated. If the fox carcass is removed, but the smell remains, the job is not complete. We always ensure that the proper techniques are used to make your property smell fresh as soon as possible. Lastly, we will ensure that the animal carcass is disposed of properly to save you from potential fines, not to mention the hassle of getting rid of the dead fox yourself. Don't waste any more time considering how you are going to remove that dead fox from your property. Surely you have more important things to do today. Make it easy on yourself and call us now. Let the professionals handle it!