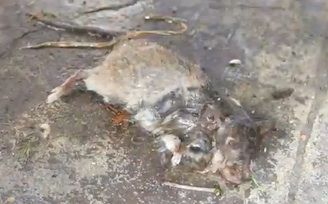 Dead animal removal in Emerson NJ, can remove smelly, dead animals and clean up the dangerous mess they leave behind.
When Problems Arise – You Know Who to Call
Dead animal removal is not something the folks in the Emerson New Jersey area think of too often. No one can predict or control when an animal will die or where on your property, and it is not a problem that should be taken lightly. When the stench of a dead critter under the deck, in the crawl space or somewhere in the attic or garage lingers in your home or business, you need to call in the help of a professional. Dead animal removal in Emerson NJ, can remove any deceased animal from the property whether it is a smaller animal such as a bird, squirrel, fox, opossum, dog, cat or rabbit. The folks at Dead Animal Removal can safely remove the dead animal, clean up, and disinfect the area where the body was found at the home or business, and dispose of it no matter where it is – even if it is between the walls, under a porch or inside in a cupboard.
Dead Animals are Dangerous and Here is How
Dead animals not only leave a mess, but they can be a dangerous health hazard, too. The professionals at Dead Animal Removal can not only remove the animal, but they can clean the area where the carcass was found and clear the area of harmful bacteria and aftermath like maggots and stains left by the rotting carcass. Just letting Mother Nature "take care of her own" and leaving a dead critter to decay on its own is never the best policy. Ignore the problem, but it will not go away. Dead animals attract other scavengers and carrion that also carry their own diseases, and can be of great harm themselves to a home or business and the people who live and work there. The infestations they bring can grow and cause sickness and disease in humans and living animals whether pets or wild creatures. Dead Animal Removal of Emerson New Jersey, can rid your home or business of these harmful carcasses and their underlying dangers.
So when you smell the stench of a dead animal on your property, call Dead Animal Removal for professional help getting rid of any dead creature and cleaning up after it. They will give you the peace of mind that the removal was done properly, safely and professionally in the Emerson New Jersey area.