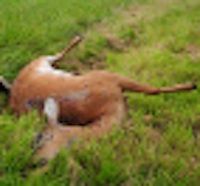 There are many things that could pose a health threat to us and our families and one of the most important things to take into consideration is the removal of dead animals. It doesn't matter what the animal is, but the bigger the carcass the more chances of all kinds of infection and diseases being spread to people. We are the best service for dead deer removal in Ocean County NJ and we can also handle the removal and sanitation of all kinds of animals that might be dead in the perimeter of your property.
If you happen to live in an area that has a lot of wildlife surrounding it, you should always be aware of the possibility of dead animals that could bring very serious health problem to you and your family. For this reason you should always hire an expert that will be able to take care of things properly and will not let any of the important steps be left out.
When you hire someone to do any kind of work for you, there are certain things that you should always take into consideration. The most basic point that everyone thinks when they require a service is just how experienced the staff is. The removal of dead animals is a very delicate thing that cannot be taken lightly and this is why you should always make sure that you hire someone who can do it right. Your health is the most important thing you have and taking this kind of matter seriously is essential to avoid having to regret a complicated illness in the future.
The best service for dead animal removal in Ocean County NJ is definitely what you are going to be looking for when you decide to get hire someone. Everyone wants to get the best possible service at the best prices and this is why we are proud to say that our level of professionalism is exactly what you have been looking for.
There are many things that can go wrong if you simply decide to take matters into your own hands but you don't have any idea of how to properly dispose of a dead animal and how to sanitize the area in order to get rid of as much odor and residual bacteria that could be in the ground or any kind of surface that you have found the animal on. The professional service is not only the best idea because of their knowledge on the matter, but it's also very unpleasant to have to do this on your own and without any protective gear it's even more unbearable to do it.
You could even catch an infection if the animal has been dead for a long time and many of the bacteria and microorganisms that are in the animal remains could end up giving you more trouble than you expected.
We invite you to contact us today and we can answer any questions you might have about our service. This way you will know everything you require before you hire us for the job. You will be very satisfied with our service and we have removal for basically any species of animals, including, deer, birds, cats, dogs, possums and any of the common creatures that can be found on the road or near houses that are in the country side. The same goes for animals from the city such as mice and all kinds of arachnids or reptiles.